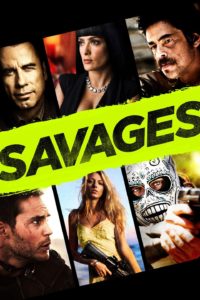 Part-time environmentalist and philanthropist Ben and his ex-mercenary buddy Chon run a Laguna Beach-based marijuana operation, reaping significant profits from their loyal clientele. In the past when their turf was challenged, Chon took care of eliminating the threat. But now they may have come up against something that they can't handle — the Mexican Baja Cartel wants in, sending them the message that a "no" is unacceptable. –Simon Schuster, 2010
Book Review:
Set during the late 2000s during the Obama administration, Savages' short cast includes two drug dealers, a horny- rich-do-nothing and the Mexican cartel.  That about covers the character development. Each character is given a label and more or less stick to it.  The cartel says, 'hey gringos, give us your weed or else', the drug dealers say, 'here take it, we're getting bored with the biz anyway,' but of course, it wouldn't be much of a story if the cartel was civil about it or if the story was told in a consistent style.
The cartel takes the drug dealers' horny- rich-do-nothing to incentivize them into doing things their way.  Which does nothing but start a war with both sides fight for what is theirs.  Their pothead-plaything, their territory, freedom, etc.  Political commentary taking jabs at Republicans, Democrats and the Iraq War are sprinkled throughout the fast-paced tale that never quite answers who is the real savage is.
The 2012 movie adaptation starring Selma Hayek, Blake Lively, and Taylor Kitsch doesn't include the novel's political commentary or racial slurs but does have a savage level of violence, making it more or less a faithful adaptation of the novel. With great performances by Benicio Del Toro as the disturbing Lado and John Travolta, whose role as Dennis' was boosted unnecessarily to give him more to do. –Borrow it