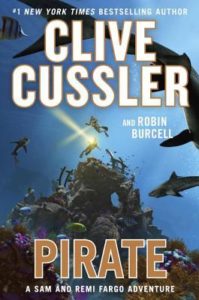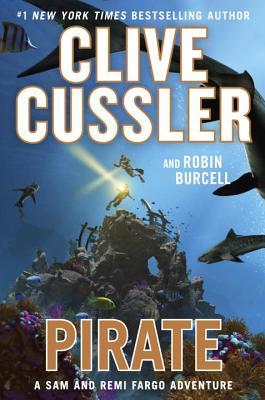 An 800-year-old treasure… an ancient cypher wheel… a brutal murder… and a man who will stop at nothing to claim what he considers rightfully his. Husband-and-wife treasure-hunting team Sam and Remi Fargo have gone on impossible missions before and faced many perils, but never have they faced an adversary as determined as the one before them now. The battle will take them halfway around the world, and at its end will be either one of the most glorious finds in history — or certain death.
–G.P. Putnam's Sons; 2016
Pirate follows the further adventures of millionaire treasure hunters Sam and Remi Fargo, as they race to find a lost medieval treasure.  The light banter and quiet moments of reflection and appreciation between the couple helps solidify the husband and wife's relationship outside of their titles and their assumptive meanings.  The same could not be said for Remi's vague relationship with Brie Marshall, who caused the whole adventure by sending the couple to her uncle's bookstore for a rare first edition book.